Filter by Category
Mechanical/Maintenance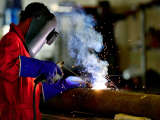 Introduction to Welding
with Tom Owen

Nov 27, 2018 at 5:30 pm

, runs for 4 weeks
This $500 class is being offered at a reduced price due to a grant from the Vermont Department of Labor!
Explore the world of welding. Experienced teachers will guide you with a hands on approach. Spending ample time in the welding booth you will gain experience and confidence. Standards and tips for Mig, Tig, and Stick welding will be covered.
Check with VSAC to see if you qualify for a non-degree grant!
Full Course
Oil Heat Certification
Students will be immersed in the field of Oil Heat while preparing for the National Oil Heat Research Alliance (NORA) Bronze Certificate. This Certification qualifies you to start an entry level position with a heating company and starts you on your way to becoming a licensed technician. This training prepares you for the National Exam and includes many hours in the lab.